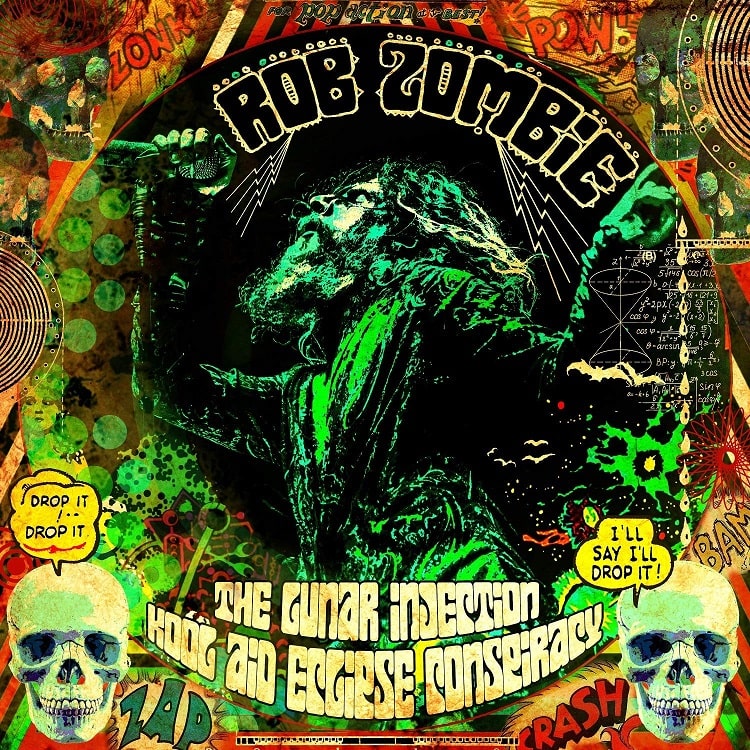 Dopo quasi cinque anni di assenza, il buon vecchio Rob Zombie ritorna sulle scene con un nuovo album dal titolo particolare ed enigmatico, The Lunar Injection Kool Aid Eclipse Conspiracy. Anche in quest'ultimo lavoro in studio, Zombie sì esprime con il suo caratteristico stile shock rock che lo caratterizza da sempre, non solo musicalmente ma anche in ambito cinematografico, dov'è ormai da anni un affermato regista di film horror.
L'artista americano rimane anche qui fermamente legato alle sonorità industrial metal che lo hanno reso celebre negli anni '90 con i White Zombie: la chitarra elettrica di John 5, il basso di Piggy D e la batteria di Ginger Fish (tutti e tre ex musicisti, in momenti diversi, per la band di un altro shock rocker di grosso calibro come Marylin Manson) sì mescolano, creando una buona alchimia con il sound elettronico e la voce sempre graffiante di Zombie.
Brani come The Triumph Of King Freak (A Crypt Of Preservation And Superstition), The Ballad Of Sleazy Rider, Shadow Of The Cemetery Man, The Eternal Struggles Of The Howling Man, The Satanic Rites Of Blacula, Shake Your Ass-Smoke Your Grass, Get Loose e Crow Killer Blues sono una rivisitazione fedele dello stile musicale dei White Zombie. Rappresentano delle eccezioni 18th Century Cannibals, Excitable Morlocks And A One-Way Ticket On The Ghost Train, che a tratti presenta sonorità tendenti un po' country, e la strumentale The Much Talked Of Metamorphosis, della durata di poco più di due minuti.
Nulla di nuovo, dunque, dalle parti di un Rob Zombie che, nonostante sì confermi indubbiamente simbolo e colonna portante dell'industrial metal, di fatto dopo un'assenza abbastanza lunga dalle scene musicali non propone nessuna sensibile variazione sul tema, pubblicando un album che cavalca un po' troppo le orme dei White Zombie.
(2021, Nuclear Blast)
01 Expanding The Head Of Zed
02 The Triumph Of King Freak (A Crypt Of Preservation And Superstition)
03 The Ballad Of Sleazy Rider
04 Hovering Over The Dull Death
05 Shadow Of The Cemetery Man
06 A Brief Static Hum And Then The Radio Blared
07 18th Century Cannibals, Excitable Morlocks And A One-Way Ticket On The Ghost Train
08 The Eternal Struggles Of The Howling Man
09 The Much Talked Of Metamorphosis
10 The Satanic Rites Of Blacula
11 Show Of Stones
12 Shake Your Ass-Smoke Your Grass
13 Boom-Boom-Boom
14 What You Gonna Do With That Gun Mama?
15 Get Loose
16 The Serenity Of Witches
17 Crow Killer Blues
IN BREVE: 3/5