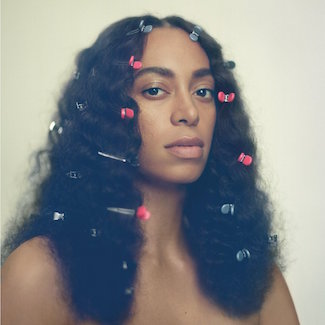 A distanza di otto anni dall'ultimo "Sol-Angel And The Hadley St. Dreams", Solange mostra la maturità degna di una Knowles, cresciuta all'interno di un ambiente in cui, per stessa ammissione sua e di Beyoncé, ha regnato la sovranità di un padre/manager rigoroso. A partire da Rise, Weary, Cranes In The Sky e F.U.B.U (nota marca di abbigliamento molto popolare tra gli afroamericani), Solange fa con A Seat At The Table una sorta di confessione sulla forza che una donna ogni giorno deve avere e dimostrare e su cosa significhi per lei essere un'afroamericana nel 2016.
Il momento di massima espressione di indipendenza lo si ha in una sequenza che inizia con Interlude: Tina Taught Me e termina con Interlude: This Moment: la madre che assume la figura di un predicatore mentre recita il suo sermone esprime la propria opinione riguardo la controversia del movimento Black Lives Matter e i sostenitori dell'All Lives Matter, il fraintendimento nel pensare che essere a favore dei diritti degli afroamericani si traduca automaticamente nell'essere razzisti ("It's such beauty in black people, and it really saddens me when we're not allowed to express that pride in being black, and that if you do, then it's considered anti-white. No, you just pro-black").
Don't Touch My Hair, composta con l'aiuto di Sampha, è un inno alle proprie origini, dove i capelli rappresentano l'orgoglio di essere afroamericana e un'estensione della propria personalità ("Don't touch my hair when it's the feeling I wear / Don't touch my pride they say the glory 's all mine"). Infine si chiude con Interlude: This Moment ("If you don't understand us and understand what we've been through, then you probably wouldn't understand what this moment is about"), con questi tre brani che per la centralità e la successione racchiudono l'essenza stessa dell'album.
"A Seat At The Table" diventa così un album manifesto, al pari di "To Pimp A Butterfly" di Kendrick Lamar e un gradino sopra "Lemonade" di Beyoncé, prendendo letteralmente le sfumature di una conversazione tra Solange e il mondo seduti a un tavolo. Un'autodichiarazione di forza e sicurezza, tramite un soul che ritorna alle origini senza mai sfociare nell'aggressività, ma con delle armi più potenti: grazia e raffinatezza.
(2016, Saint / Columbia)
01 Rise
02 Weary
03 Interlude: The Glory Is In You
04 Cranes In The Sky
05 Interlude: Dad Was Mad
06 Mad (feat. Lil Wayne)
07 Don't You Wait
08 Interlude: Tina Taught Me
09 Don't Touch My Hair (feat. Sampha)
10 Interlude: This Moment
11 Where Do We Go
12 Interlude: For Us By Us
13 F.U.B.U. (feat. The-Dream & BJ The Chicago Kid)
14 Borderline (An Ode To Self Care) (feat. Q-Tip)
15 Interlude: I Got So Much Magic, You Can Have It (feat. Kelly Rowland & Nia Andrews)
16 Junie
17 Interlude: No Limits
18 Don't Wish Me Well
19 Interlude: Pedestals
20 Scales (feat. Kelela)
21 Closing: The Chosen Ones
IN BREVE: 4,5/5