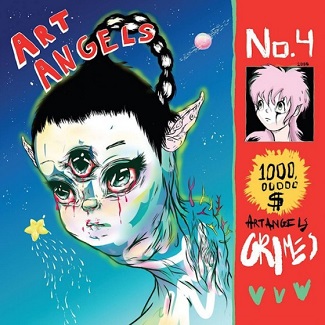 Art Angels è per Grimes una grande occasione per prendere residenza tra le reginette dell'art pop contemporaneo. Assurta agli onori della cronaca musicale nel 2012 con "Visions", trascinato da hit come "Oblivion" e "Genesis", Claire Boucher (vero nome dell'artista canadese) adesso fa sul serio con un album che allontana il do it yourself del precedente lavoro – che registrò lei stessa nella sua camera a Montreal – sposando una produzione levigata e studiata nei minimi dettagli.
Eppure "Art Angels", sebbene abbia evidenti ambizioni da classifica, è un viaggio eterogeneo nel complesso immaginario sonoro di Grimes. L'anima naif di "Visions" è stata spazzata via da un songwriting più maturo, da melodie vocali concise e delineate e che non ricusano una certa vena sperimentale (il rap in cinese di SCREAM con la rapper di Taiwan Aristophanes).
Tra chitarre campionate, beat pulsanti e synth lucenti che guardano agli anni '80, Grimes piazza ritornelli a presa rapida (Flesh Without Blood, il cui video richiama dettagli macabri cari a Lady Gaga), cavalcate à la Kate Bush (Realiti) o strizzate d'occhio ai Purity Ring (Butterfly), sbarazzini rimandi a Gwen Stefani (Belly Of The Beat) o a Madonna, periodo "Ray Of Light" (California, la title track, Life In The Vivid Dream).
Grimes miscela elementi rock ed electro-pop senza farli confliggere tra loro, mostrando eccellenti doti da producer soprattutto nel flemmatico R'n'B di Easily e nei beat compulsivi di Venus Fly con Janelle Monáe.
Il primo approccio con "Art Angels" può essere invero ostico a causa della sua complessità e di architetture sonore intricate, ma a lungo andare si schiudono gli equilibri che lo reggono rivelandoci come la Boucher non sia più solo una grande promessa tutta da mantenere.
(2015, 4AD)
01 laughing and not being normal
02 California
03 SCREAM (feat. Aristophanes)
04 Flesh Without Blood
05 Belly Of The Beat
06 Kill V. Maim
07 Artangles
08 Easily
09 Pin
10 Realiti
11 World Princess part II
12 Venus Fly (feat. Janelle Monáe)
13 Life In The Vivid Dream
14 Butterfly
IN BREVE: 4/5